We offer expert installation in Oregon and Washington!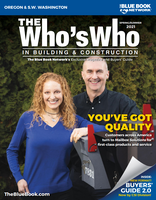 We've been featured!
We have been featured in the Who's Who in Building & Construction Magazine for Oregon & SW Washington Spring/Summer edition 2021. Check out our story to find out more about how we manufacture our mailboxes from right here in Oregon.
Click here to see our story!
Featured products
Skyline Mailbox

COGO (Columbia Gorge)

Summit Mailbox
Testimonials
When we decided to get a locking mailbox, it was very apparent that Mailbox Solutions was the place to go. The quality, value, and service was unparalleled compared to the cheaper versions at the big box stores. And when the boxes were installed, it added instant curb appeal. And now, we're not worried about our mail being stolen or having to deal with going to the post office to get our mail from our PO Box.

Belinda P
Would suggest anyone to use Mailbox Solutions, they have been very informative in letting us know what to expect. Our neighborhood has now upgraded into an extremely great looking multi unit mailbox, knowing our mail is secure.
I really appreciate all the help from your staff on getting started.
Thank you so much, everyone is very happy that we have finally corrected an out dated ugly looking mailbox system we were using.

Maxine O
We had kind of a complicated problem replacing a mailbox with peculiar sizing and needs, and finally found Mailbox Solutions after a few months of reviewing options. I'm so glad we did. The ordering was easy, delivery very quick, and the customer service part of it was flawless from the first discussion to the follow up after we installed. Having the push button lock is also very secure and makes it all easier to manage. No more keys to give out (and lose). Would highly recommend and we will definitely use again.

Dianne W
We purchased our mailbox 18 years ago from Mailbox Solutions. Recently, it was damaged during construction of a new house in our neighborhood. I called Mailbox Solutions, and sent them photos,. They promptly responded to us with solutions on what they felt needed to be done, along with a quotation for the repairs. The repairs were done within just a few days! It was a pleasure to work with Danell, Paul & Jeff. We would highly recommend Mailbox Solutions! Their products last a long time! Thank you!

Heather E
"Mailbox Solutions is an amazing company, the staff is friendly, responsive and the customer service is unmatched.  The day after we hung our new Oswego mailbox, we had a mailbox thief take all of our neighbors mail and destroy their mailboxes, but thanks to Mailbox Solutions we were untouched.  Our mailbox not only looks great on our home but it gives us a peace of mind we didn't realize that we needed until recently.  Thank you for all you do, I recommend that everyone make the investment and upgrade with Mailbox Solutions today.  You won't regret it!

Michelle F
Location
Visit Our store
13950 SW Galbreath Dr #216
Sherwood OR 97140
ph: 503.486.5575
Mon - Thu, 9am - 3pm
Friday , 9am - 1pm


Mailbox Solutions
A leader in the industry
Mailbox Solutions is one of America's premier security, locking mailbox companies specializing in top quality, precisely engineered, heavy-duty locking mailboxes, locking drop boxes, and cluster box units for virtually any home or business. In addition to our high quality, secure, locking mailboxes, we also provide mailbox accessories, heavy duty mailbox mounting posts, mailbox installation service and vinyl numbering.  
For those of you familiar with our tradition, thank you for your support and continued interest in the growth of our company. For those of you that are new to our company or are searching for the best security locking mailboxes for your project needs, welcome to the family, and we'd consider it a privilege to work with you.